Michaela, EU Aid Volunteers in Nepal
It has now been 6 months since I started volunteering with Volunteers Initiative Nepal (VIN) and a lot has happened in the last three months of my deployment (early 2020).
So far, I have worked on revising content, writing a volunteer policy and strategy, mentoring volunteer coordinators, and assisting the organization with presentations on the benefits of volunteering. But then the coronavirus pandemic occurred and this had a significant impact on the number of volunteers who canceled their placements at Volunteer Initiative Nepal (VIN) and the number of volunteers who tried to return home since the March lockdown. I have also been repatriated, with my volunteer management project suspended until further notice, but I am very happy with what I have achieved so far. The confinement in Nepal, but also in the UK where I live, has given me time to reflect and discuss the last few months in Nepal with the VIN organisation.
Between January and March, I was very busy as I supported the team of volunteers from VIN, Dinesh, Diwakar and Subheksya, other NGOs in the field, in the drafting of their annual report for 2019. It was an excellent opportunity to look back on 2019, reflect on what went well, and identify some areas for improvement. I really enjoyed reading the volunteers' comments, gathering statistics, and working with the volunteer team to select the case studies. I also managed to bring some ideas on the graphs in the volunteering sections, especially the map where the volunteers come from. It was then time to look ahead and continue planning for 2020 to ensure that volunteers are safe, supported, and have the best possible experience. Of course, this was before the coronavirus took hold around the world!
For the VIN organization, volunteers are the key to the success of each program. It is a priority in my deployment to help the organization review the recruitment of national and international volunteers. This included helping the teams determine the number of volunteers needed, the month, and duration of their assignment. Together with the volunteer team and project managers, as well as senior management, I led a meeting to ensure that we established a quarterly calendar for the year to ensure continuity and to have the greatest possible impact on communities. This work was then translated into a spreadsheet, which listed volunteers by role, project, and length of time volunteered.
This visual representation showed where the gaps were integrated into the communications plan to ensure that advertising roles were timely and planned. In addition to recruiting international volunteers, this spreadsheet helps VIN to recruit local volunteers as well, as the number of volunteers can be estimated and planned for more effectively. I am aware that the coronavirus has had a major effect on the VIN organization, especially since international volunteers are their main source of income. But I hope that once the coronavirus has passed and people are able to volunteer abroad again, this work will help the organization prioritize the recruitment of future volunteers.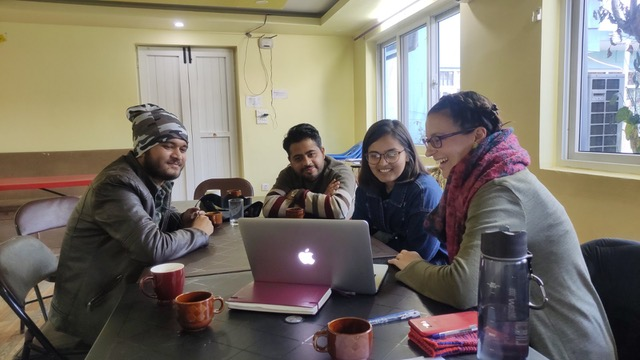 In the last few months, I have experienced two other highlights. I organized and led a training session for VIN staff members on best practices in volunteer management in an intercultural context. This included exploring how the organization works as a team to recruit, support, and leave national and international volunteers. The session focused mainly on intercultural awareness and communication, a crucial element when working with volunteers from all over the world. Being aware that culture and communication styles are linked, as well as different personal preferences on how to communicate, allowed the organization to reflect on what can be done better or differently when working with volunteers. At the same time, I was asked to review the induction of international volunteers in the medium and long term. The feedback showed that volunteers appreciate the induction, but that it can benefit from being more interactive.
As mentioned before, intercultural communication is something I am very interested in. And even though VIN organized a session on cultural guidance in the integration process of volunteers, the volunteer team and I wanted to make it more balanced and involve national and international volunteers together for the first time. So I was able to create an intercultural awareness and communication session for all the volunteers that VIN is dealing with, giving them all the opportunity to work together, learn together and explore their own perceptions of culture and communication in a training session. The volunteers really engaged in the workshop by giving many examples of miscommunication, but also by recognizing their own cultural influences on how they communicate with others, which helped the group to come closer together and better collaborate as a team.
The idea was to realize that when we work with people from all over the world, we need to find a common way to convey information more efficiently, in a friendly and accessible way. I highly recommend reading Erin Meyer's The Culture Map which explores these ideas in great detail.
It was really nice to see national and international volunteers being initiated together and working together as well. The role of national volunteers is something VIN really wants to focus on more. I was hoping to spend some time on it in the last two months of my deployment, but due to the repatriation, this part of my duties is still incomplete, however, it was really exciting to work closely with Dr. Laxmi, VIN's program manager, to recruit, select and integrate three new national interns in February: Dev, Manzil, and Sandhya. The role of the interns was to support the new EUAVs in their functions, namely environmental protection, women's empowerment, and communication-based development.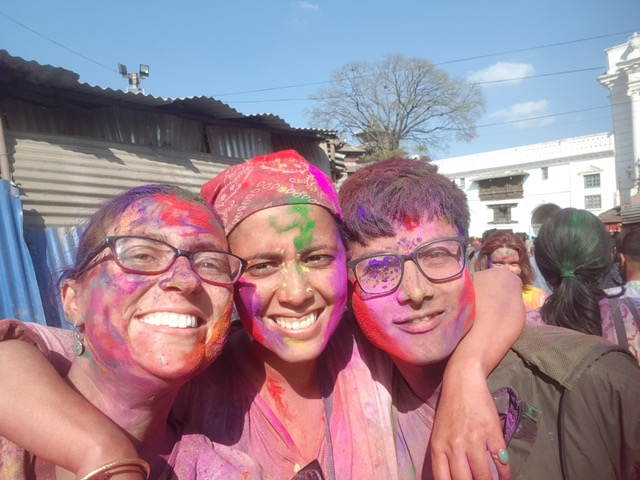 The recruitment of new interns and volunteers came at the right time, as it allowed us to celebrate Holi (Hindu color festival) together, which was a lot of fun! Whether interviewing volunteers, getting to know them during the integration process, or supporting them in their placement, I always like to learn something new about people. This is one of the reasons why I chose my career in volunteer management. I find people interesting and I am fascinated by the fact that, regardless of the country of origin, what binds them is the shared desire to learn together and make an impact. I am very conscious and privileged to be part of some volunteers' lives, even if only for a short period of time.
And now that I'm back home and back in a new routine, I was touched by the impact that all the volunteers had on each other. It's nice to see the WUAVs, volunteers, and staff of VIN caring about each other's well-being and making new friendships around the world. Finally, I would like to thank ADICE for its support and for ensuring my safety during this coronavirus pandemic. It was a difficult decision to put my project on hold, but it was the right one.
I felt very sad to leave my colleagues at VIN. They made me feel incredibly welcome and part of the team. I really admire their passion, hard work, and commitment to supporting marginalized communities. I also feel that I still have unfinished projects and unfinished business, but I was very touched by the kind words of Bhupi, the founding president of VIN, when I left, as we had worked closely together for the past six months. I was also touched by the fact that VIN organized a last-minute farewell ceremony for me and I am really looking forward to seeing them again in the future.
To learn more about the VIN oragnisation, please follow this link: www.volunteersinitiativenepal.org.
Et si c'était toi ?
Rendez-vous en

réunion d'information

!
Tous les mecredis à 11h en ligne