"Find a future that make sense" – strengthening the bonds of European organisations with the youth
On 10 &11 October, ADICE organised two in-person events with the active participation of European partners from its network 3EforYouth.
Last month, ADICE had the pleasure to host 8 partner organisations from its newly developed European network 3EforYouth: 
Curba de Cultura (Romania

🇷🇴)

Fundación Plan B Educación Social (Spain

🇪🇸)

 

Hope for Children

– CRC Policy Center (Cyprus

🇨🇾)

 

JMK (Estonia

🇪🇪)

KERIC (Slovakia

🇸🇰)

 

Mladiinfo Slovensko

(Slovakia

🇸🇰)

Center Youth – Mustárház (Hungary

🇭🇺)

Volunteers Centre

Skopje (North Macedonia

🇲🇰)
The consortium reuniting EU Youth organisations has been developed in early 2023 with the aim of working on the two following themes: 
Mobility

 

International cooperation

 
The network's overall strategy has the 3 following objectives: 
Encourage

young people to get involved and facilitate their participation in actions of general interest;

 

Networking

stakeholders in the youth sector;

 

Reinforce

the

capacit

ies

of stakeholders in the youth

sector;

 
To fulfil this strategy, on 10 & 11 October, European youth organisations from the network gathered in Roubaix & Lille to have their first in-person meeting.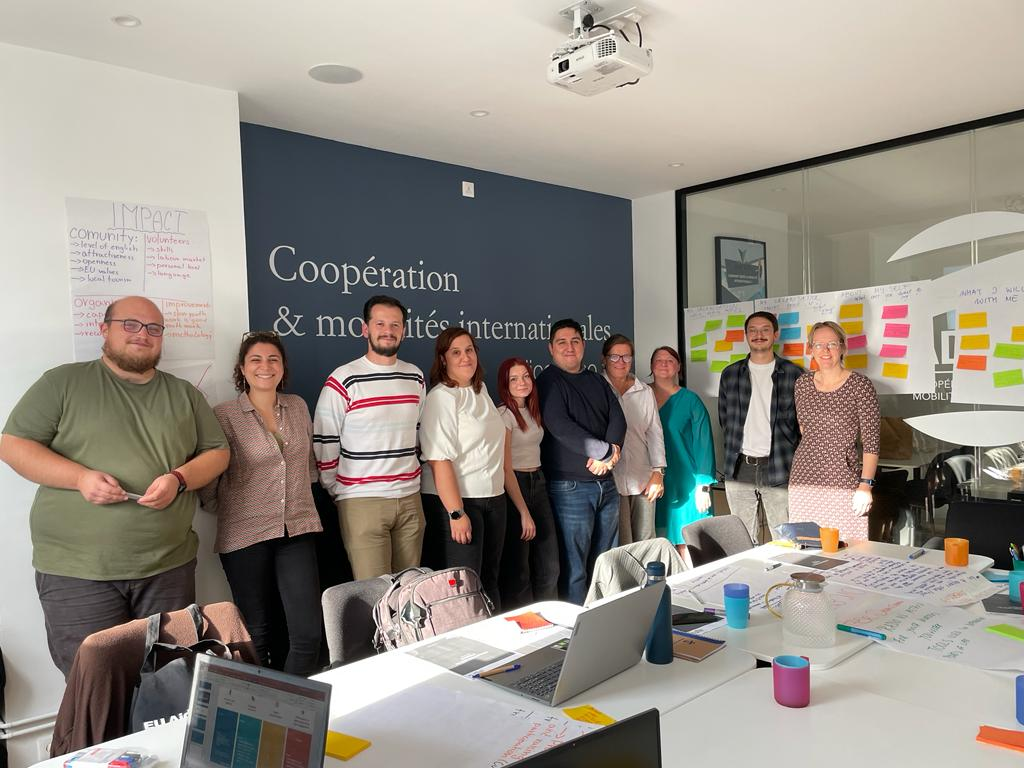 10 October – Networking, exchange of best practice and development of new opportunities
The first day of the seminar was organised in Roubaix within ADICE's office to enable partners to meet for the first time in-person and present their organisation in details to everyone attending. Throughout the day, ADICE coordinated various workshops: 
A speed dating to enable everyone to meet individually and start developing bilateral partnership ideas;

 

A workshop on exchanging best practice through the presentation of multiple initiatives;

 

A discussion group to present project ideas and develop them in detail;

 
These workshops were developed to allow partners to meet individually, work in-group, share and develop new projects together. Based on the successful productions of the meeting, partners expect to develop new initiatives both in mobility and international cooperation for the year 2024 and beyond.  
1

1

October –

Meeting young people and stakeholders from the Youth

sector
The next day, the 3EforYouth partners all attended and participated to an open event called "Find a future that make sense" and which was organised in the youth hostel Stephane Hessel in Lille. The event was organised to: 
Enable young people to contribute by sharing their experience of volunteering at the international level;

 

Inform and raise awareness on European mobility opportunities;

 

Organise a forum of opportunities so that young people can meet professionals to discover the available opportunities;

 

Create networking opportunities for young people, local professionals and EU network members;

 
Over a hundred people came together for this morning of exchanges on local and international volunteering. The European partners attending had the opportunity to present their organisation in details and meet with young people and youth professionels from the Hauts-de-France region.