The Valorisation Workshop Guide is available!
The Valorisation Workshop Guide is developed in the frame of the Erasmus+ Key Action 2 Mobility+ project. It is the 4th intellectual output of the project.
The objective of the Mobility+ project is to inform and train adult education workers to improve the quality of support given to future international mobility participants. The project has developed complementary tools and methods to train adult education workers in the support of participants and especially those with fewer opportunities this includes support pre-departure, during and after their mobility project to ensure a high-quality experience and to maximise impact on their professional and personal inclusion.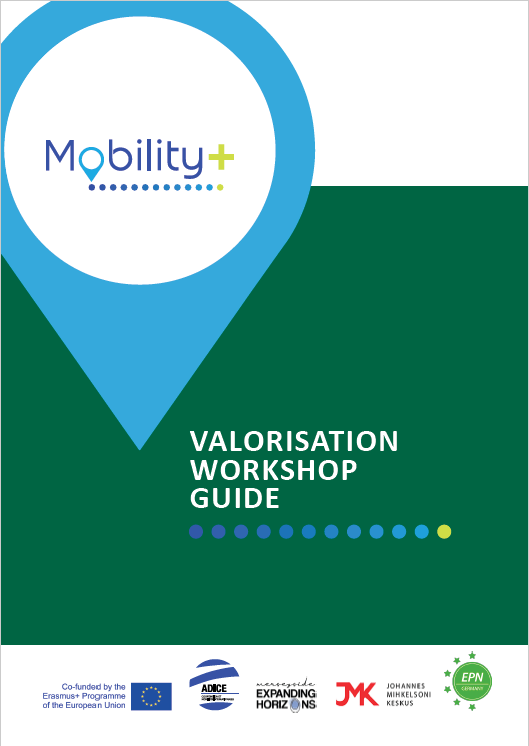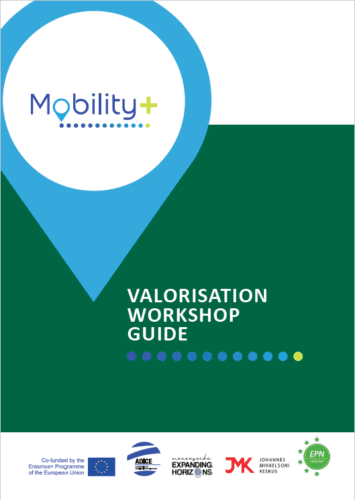 m mobility projects and reinforce the benefits of international mobility for workers in the field ofadult education. The guide will help educators to support participants (learners) to understand and grasp the career and development aspect of international mobility, the obtained skills, and how to use them in their work, and increase professional opportunities. It provides sending organisations with a much needed methodology to train non-formal adult education field workers and help them work autonomously through the different modules of the workshop.
The guide provides the adult education workers with information and/or methodology on organising valorisation workshops after the arrival of participants:
– How to valorise the competences acquired
– How to make the project of mobility a real added value on return
– How to link this new professional experience in the future projects of the participants
– How to further reinforce the new acquired competences
8 key competences
The valorisation process is divided into eight categories in accordance with eight European key competences identified by the European Union:
Literacy competence
Multilingual competence
Personal, social, and learning to learn competence
Citizenship competence
Cultural awareness and expression competence
Entrepreneurship competence
Mathematical competence and competence in science, technology, and engineering
Digital competence
Get the guide
Find the "Valorisation Workshop" Guide
The Valorisation Workshop Guide can be downloaded free of charge from the respective websites of the project partner organisations and is available in English, French, Estonian and German. Three previous intellectual outputs – "Information and Orientation Guide: Training Guide for International Mobility Projects", the "Competence Manual" and the "Portfolio: Build Your International Mobility Project" are also available on the websites of the project partners in four languages.