18 May 2021
Global online forum for the humanitarian volunteering community launched by Volunteering for Humanity
A group of four European-based international volunteer sending organisations has launched a global forum for those involved in the international volunteer space to come together to network, discuss issues of common interest and share best practice.
The online community, Open Forum, has been created so that anyone in the international humanitarian and development volunteering world (e.g. volunteers, sending and hosting agencies and funders) can come together to network, forge new partnerships, share best practice and discuss developments in the sector.
Open Forum is unique in that there is no other free to join global forum geared towards the needs of volunteers, sending and host organisations. Members can be individuals or organisations and members can post new discussions, respond to discussions, link to events, showcase their work, introduce themselves to others in the community, download useful assets such as eBooks, view exhibitions of work, share best practice, form new partnerships and more.
Response to the Open Forum so far has been very encouraging, with over 200 users registering from all around the world, including Asia, the Middle East and Africa since its soft launch in April.
Covid-19 has dramatically affected international volunteering due to restrictions on travel, but Open Forum members can still communicate and learn best practice during this lull period. For instance, there have been over 3,000 downloads of Volunteering for Humanity's series of eBooks on best practice in humanitarian and sustainable development project management. This is a good time for organisations in this space to ensure they are adhering to the latest and most effective methodologies.
Adrian O'Farrell, Communications Manager of Volunteering for Humanity, said 'We are tremendously excited at the possibilities for Open Forum, as we have found that people involved in the international volunteering arena around the world are responding very enthusiastically. There is so much knowledge that some of our members have to impart, while there is also so much thirst for knowledge that some of our other members have. And the Open Forum is a very effective place to bring people together to learn and meet.
You can find Volunteering for Humanity's Open Forum here, click on the image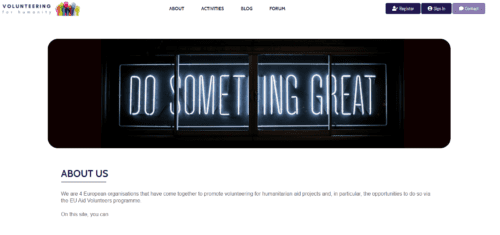 For more information on volunteering for humanitarian aid project work, check out #EUAVI
About Volunteering for Humanity
Volunteering for Humanity is a consortium of four European-based volunteer sending organisations that have come together as part of an EU-funded technical assistance programme. This programme is designed to strengthen the capacity of the member organisations to deploy volunteers under the EU Aid Volunteers programme #EUAVI. Volunteering for Humanity consists of Adice (France), Keric (Slovakia), NGDO Platform (Lithuania) and VC (Ireland).
Further Information
Adrian O'Farrell, Communications Manager
Volunteering for Humanity
Call direct on +353 (0)86 6016528
+353 (0)1 5988008