Constance, VSI in Mozambique
"I have achieved my initial goals and developed new skills [...] I hope to stay in Mozambique for a long time and wish everyone to discover this wonderful country one day.
ESSOR is a French NGO that works in favour of vulnerable populations in the fields of responsible agricultural development, training and professional integration, and education. We are present in Brazil, Mozambique, Guinea Bissau, Chad, and Congo.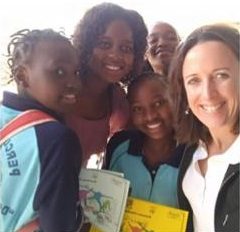 I joined ESSOR Mozambique as an Education Project Manager for the city of Maputo and its province. My duties mainly consist of ensuring the implementation and monitoring of two programs, one for children aged 0 to 5 years old who are enrolled in small kindergartens in neighbourhoods called "community schools", the other, the Citizen's Journey, is aimed at young adolescents aged 13 to 18 years old. I am also in charge of the institutional support inherent to this kind of development projects (relations with public authorities, development of partnerships, creation or participation in networks of national and international actors in the education and early childhood sectors, etc.) 
My professional life is very rich in terms of interactions, emotions, and learning. I have achieved my initial objectives and I have developed new skills, especially in fundraising and writing micro-projects. These last few months I have been particularly involved in three projects: in the pre-school, the production of a kit of Montessori inspired educational materials, the other is the creation of Youth Clubs that would bring together young people from the Citizen's Path (Parcours Citoyen).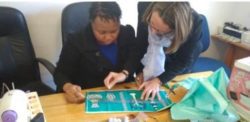 The first is an adaptation of the experience conducted in 2019 by our teams in Guinea Bissau, the second is a common objective for all ESSOR Education teams. Finally, with our local partners, we are launching urban vegetable gardens in all our intervention sites. 
I work in pairs with a technician who follows the field activities with our local partners. There are about a dozen of us in the office, working for the coordination or one of the different ESSOR intervention sectors. The doors are open to everyone, we are developing synergies between sectors and there is a good dynamic. My tutor is the Financial and Administrative Manager, our relations are excellent and by her side, I have notably developed my skills in drawing up and monitoring budgets.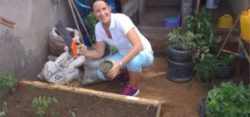 My personal life reflects my professional life, it is as exciting as enriching. I have made new cultural discoveries, admired and/or crossed magnificent landscapes, and above all woven great friendships. I hope to stay in Mozambique for a long time and wish everyone to discover one day this wonderful country, The Land of good people as it is called. 
Constance Fleury